ELGA® Launches the PURELAB® Quest Water Purification System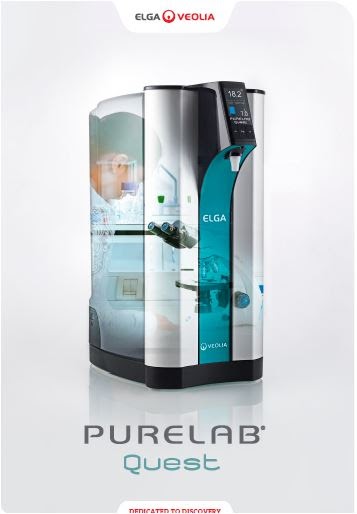 ELGA LabWater, a Veolia Water Technologies company, announces the launch of the PURELAB Quest,  a laboratory water system that delivers water for the widest range of lab applications, offering unmatched value and an outstanding user experience. Prestige labs in Academia, Government and Industry will all benefit from PURELAB Quest contribution to research. 
The PURELAB Quest's unique design dispenses all three types of lab water (ultrapure 18.2MΩ-cm, pure Type II & general laboratory grade Type III) directly from a tap water input. 
From only one unit, the PURELAB Quest produces water for applications from HPLC & PCR to buffer preparation and glassware washing.
The PURELAB Quest is highly compact, intuitive to use, easy to install, uses reclaimed materials and offers remote monitoring through AQUAVISTA™, Veolia's cloud-based digital solution.
With multiple purity sensors, inbuilt periodic re-circulation and a testing regime which covered over 150,000  dispensing cycles, PURELAB Quest  provides lab water that is beyond question for research labs world wide.
Mope Alo, Product Manager at ELGA LabWater, commented: "Water is the lifeblood of the life science industry, it is central to reproducibility, integrity and data accuracy. PURELAB Quest contributes to the many challenges faced by today's life science labs and research teams".
"The PURELAB Quest produces all types of laboratory water directly from a tap water input. It has been highly tested, uses proven designs and offers unrivalled value and reliability. Researchers have fed back that it is intuitive, effortless and ingenious."
...
As part of Veolia, ELGA Labwater is a leading technology development company specialized in the engineering, design,  service and field support of laboratory water purification systems. ELGA Labwater has more than 80 year's experience dedicated solely to pioneering water purification systems and its unrivalled product design has achieved international recognition and awards. 
Worldwide technical service teams support science & healthcare globally with specialist expertise. Global digital performance monitoring from AQUAVISTA™ ensures laboratory work is uninterrupted. A global supply chain supports clients from regional centers on every continent.
ELGA works closely with leading instrument companies to develop and customize specialist solutions for laboratory and healthcare challenges. ELGA Labwater is Dedicated to Discovery www.elgalabwater.com 
Veolia group is the global leader in optimized resource management. With nearly 179,000 employees worldwide, the Group designs and provides water, waste and energy management solutions which contribute to the sustainable development of communities and industries. Through its three complementary business activities, Veolia helps to develop access to resources, preserve available resources, and to replenish them.
In 2019, the Veolia group supplied 98 million people with drinking water and 67 million people with wastewater service, produced nearly 45 million megawatt hours of energy and treated 50 million metric tons of waste. Veolia Environnement (listed on Paris Euronext: VIE) recorded consolidated revenue of €27.189 billion in 2019 (USD 29.9 billion). www.veolia.com